Bex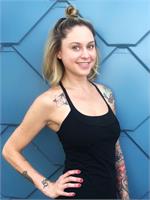 Where is your favorite place in the world to travel?
Costa Rica
Favorite brunch food?
Mimosa, I mean Eggs Benedict.
What is one food you could never give up?
Cupcakes, cookies, and ice cream
What is your favorite season?
Fall
Ice Cream or Chips & Dip?
Both, OMG, Both!
One of your favorite quotes?
"Relax, everything is happening right on schedule."- the Universe
Who inspires you?
People who stay true to themselves and inspire others. Also, strong business women.
Nicknames?
Bex
Bex instructs the following:
EXPRESSFLOW class is only 50 minutes!

This energizing vinyasa flow experience will have you smiling for days while you simultaneously build strength in the mind and body. Connecting breath and movement, this heated class will make you feel good on the inside and radi8 love and goodness on the outside!

room radi8s at 102-103F
with 50% humidity.




In this session, you will learn how to revive your light, realize your worth, and manifest your dreams. By tapping into your inner strength, you will create life goals that are truly attainable while transforming your desires into reality. During this workshop, you will learn how to break through blockages that are preventing you from living the life that you truly want. Come with a notepad for the writing exercise, comfy clothes, and something to sit on if you'd like. We will tie everything together with a meditation followed up with a brief discussion.