Wendy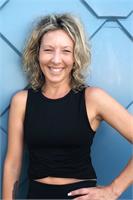 Where is your favorite place in the world to travel?
Amalfie Coast
Favorite brunch food?
champagne
What is one food you could never give up?
brussel sprouts, mushrooms, smoothies anything from Kaleidoscope!
What is your favorite season?
summer
Ice Cream or Chips & Dip?
chips and dip
One of your favorite quotes?
"This is love: to fly toward a secret sky, to cause a hundred veils to fall each moment. First to let go of life. Finally, to take a step with out feet.
Who inspires you?
The people I work with, my family, and my best friends.
Nicknames?
Wendy Darling (Peter Pan)
Wendy instructs the following:
EXPRESSFLOW class is only 50 minutes!

This energizing vinyasa flow experience will have you smiling for days while you simultaneously build strength in the mind and body. Connecting breath and movement, this heated class will make you feel good on the inside and radi8 love and goodness on the outside!

room radi8s at 102-103F
with 50% humidity.