Mike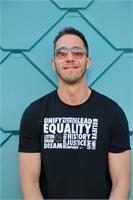 Where is your favorite place in the world to travel?
Anywhere new. Where are we going?
Favorite brunch food?
Crepes are pretty bomb.
What is one food you could never give up?
Avocado Toast
What is your favorite season?
The Office, Season 4
Ice Cream or Chips & Dip?
Chips and Hummus
One of your favorite quotes?
"Life is a playground."
Mike instructs the following:
Do you deal with stress?

Do your thoughts ever get a little out of control?

If you answered no to both, you should be levitating by now. lol.

If you answered yes to one or both, give radi8RESTORE a try. It will give you peace of mind and relax your body.

Join us for a non-heated, gentle class led by Mike Albee. Its a great way to wrap up your weekend and feel rejuvenated to start your week. Also, some major benefits to your Sunday night sleep. ;)

Wear loose comfortable clothing. Bring a pillow and blanket. Its like nap time for adults!

See you there!

**Included with your radi8 package and monthly autopay or only a $10 drop in.**