Merissa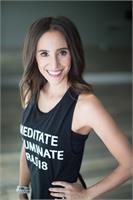 Where is your favorite place in the world to travel?
Favorite brunch food?
pumpkin pancakes & extra crispy bacon
What is one food you could never give up?
What is your favorite season?
Ice Cream or Chips & Dip?
One of your favorite quotes?
Friendship is a single soul dwelling in two bodies- Aristotle
Who inspires you?
My husband. He's so grounded and kind hearted, humble and smart.
Nicknames?
Merissa is currently not instructing any classes.