Shannon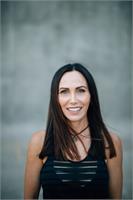 Where is your favorite place in the world to travel?
Favorite brunch food?
What is one food you could never give up?
What is your favorite season?
Ice Cream or Chips & Dip?
One of your favorite quotes?
"Do not dance around the perimeter of who you want to be. Dive in fully and completely." - Gabby Bernstein
Who inspires you?
Shannon instructs the following:
The radi8HOT set series stays the same each time you come to your mat, but guess what - you are different every time! We combine traditional hot yoga static postures with a dynamic power flow to create a radi8ing energy together! We infuse the room with high heat and humidity equally the perfect balance of stillness and upbeat flow! This daily practice is your reset to keep your mind clear and your heart open with our teachers simply as your guide.

room radi8s at 105-106F
with 55-70% humidity.