Angella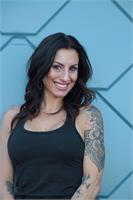 Where is your favorite place in the world to travel?
Tough one, so far probably Bali or Thailand. I want to go everywhere.
Favorite brunch food?
Banana Pancakes with Almond Butter
What is one food you could never give up?
What is your favorite season?
Either fall or spring in the NW where I am from.
Ice Cream or Chips & Dip?
Sorbet or Vegan Ice Cream
One of your favorite quotes?
"Love yourself and your expression, you can't go wrong" KRS-One
Who inspires you?
I try to be inspired daily by anyone and everyone I come in contact with.
Nicknames?
Just Ang or Agelina but never Angie
Angella instructs the following:
This energizing vinyasa flow experience will have you smiling for days while you simultaneously build strength in the mind and body. Connecting breath and movement, this heated class will make you feel good on the inside and radi8 love and goodness on the outside!

room radi8s at 102-103F
with 50% humidity.